Find Easy Scholarships from a Scholarship Drawing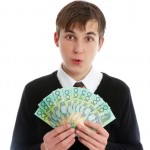 Easy scholarships can be found from a scholarship drawing because the only criteria to enter is to register online. That's it. Drawings are simple scholarships in the truest sense of the word.
Each year, many students and their parents spend hours worrying over scholarship applications and essays. There is little doubt that scholarships can be an excellent way to fund a college education, but it is also important for parents and college-bound students to know there are other scholarship opportunities available that do not involve spending hours working away on applications and essays. These opportunities are presented through scholarship drawings.
A scholarship drawing is a completely random drawing that allows everyone who entered the drawing to have the same chance at winning easy scholarship funds. One of the great benefits of a scholarship drawing is that it levels the playing fields for all applicants. Students who may not be particularly talented at composing scholarship essays or who may not have a required standardized test score or GPA will still have a great opportunity to enter a simple scholarship drawing and win money they can put toward the cost of college.
One such effortless scholarship drawing is sponsored by the Student Loan Network. While many students try to avoid taking out student loans to pay for the cost of their college education, in this case a student loan network can provide you with the chance to earn money for college for free and without the worry over paying back a loan. What is even more appealing about this basic scholarship drawing is the fact that it has a value of $10,000. The scholarship drawing has been in existence since 2008 and has helped numerous students to pay for the cost of their education. The student aid drawing is held four times per year and was originally founded by Edvisors.
eCampus Tours also sponsors an easily done scholarship drawing for students who are looking for money for college. Visitors to the site will be automatically entered in the scholarship drawing. The last date to apply is March 31, 2013. Two winners will be selected in the drawing and each winner will receive a $1,000 scholarship payable to their chosen institution of higher learning.
The Christian Connector Scholarship Drawing offers four different apparent scholarship drawings each year. One winner is chosen for Christian colleges and Bible colleges for undergraduate students. Another winner is chosen for Seminaries and Christian Graduate schools. Another is selected for Distance Learning and a fourth is chosen for a missions trip or career missionary.
The scholarship drawing takes place between June 1st and May 31st of each year. The Undergraduate Scholarship has a value of $2,500. The value of the Seminary/Christian Graduate School Scholarship drawing is $1,000. The value of the Distance Learning scholarship drawing is also $1,000. The Missions scholarship drawing also has a $1,000 value.
AnyCollege also sponsors a scholarships drawing for students who are looking for ways to increase their chances at receiving a college scholarship. Each winner of this drawing will receive a easy scholarship award of $1,500. Eligible applicants must have plans to enroll in an undergraduate program. Interested applicants simply apply online. No applications or essays are required. Scholarship deadline dates are March 30th, June 30th, September 30th and December 31st.
Go College Lucky offers yet one more cinch scholarship drawing for college-bound students or students who are already in college and looking for ways to supplement their college funding. Through this scholarship drawing, students have the chance to win a free $250 scholarship award. Students simply use the sponsor's website and tell them how it can be improved. One scholarship drawing is held each month.
The SunTrust scholarship drawing is another excellent opportunity to earn money for college. Registration for this sweepstakes begins on September 14, 2012. This is the eighth consecutive year SunTrust has held the Off to College Scholarship Sweepstakes. Students have the chance to win one $1,000 snap scholarship that can be used for their educational expenses. Fifteen drawings will take place and one winner will be chosen every two weeks. The contest is completely free to enter.
Easy college scholarships are the many scholarship drawings taking place daily/monthly throughout the year and every student should take the time to enter not only to win money for college, but to stay connected to the many easy student aid avenues that could come your way via newly announced special drawings by these same companies that sponsor them.