Easy Full-Tuition Scholarships from the Web Institute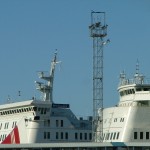 If attending college on easy full-tuition scholarships and living in a mansion while you do it sounds like your idea of a dream college, you may want to apply for admission to the Webb Institute.
Highly specialized, the Web Institute was ranked by The Princeton Review as one of the Best Value Colleges in America. This institute has earned a reputation for providing a top-notch education in engineering. Anyone who attends the college receives a full-tuition scholarship and will live in a mansion while they attend school. In addition, students also participate in internships to receive additional cash.
The Webb Institute for Naval Architecture and Marine Engineering offers only one program, which culminates in a Bachelor of Science in Engineering degree. Approximately 30 students are admitted to the school's dual naval architecture and marine engineering program each year. The school is located in Glen Cove, NY on Long Island Sound and is set on a 26 acre campus. Beyond its simple full-tuition scholarship and stellar education, the school is also known for its 100% job placement rate.
The school was originally founded as a private institution in 1889, and today has a total undergraduate enrollment of 80 students. Webb is the only college in the nation devoted entirely to ship design engineering. The founder of the college, William H. Webb, was known as the foremost shipbuilding in New York City during the latter part of the 19th century. As wooden ship hulls were being replaced by iron hulls, Webb realized that education was crucial to replacing the apprenticeship system that had formerly taught shipbuilders, such as Webb, their trade. The first class at Webb Institute graduates in 1893.
While attending Webb Institute, students not only study on Long Island Sound, but also live there as well while learning the practical and theoretical aspects of marine engineering and naval architecture. Each winter, they work in the industry to further the quality of their education.
For more than a century, Webb Institute has produced leading ship designers from around the nation. Through the systems engineering approach, students at Webb are able to go beyond civil, electrical and mechanical engineering. As a result, graduates of Webb are fully capable of working across all engineering disciplines. This is one of the primary reasons the school has a 100% graduate placement rate.
The main building houses the dorms and a total of four classrooms. Unlike many learning institutes, Webb is different in that students do not rotate to different classrooms. Instead, the approximately 11 faculty members rotate between classes due to the small class sizes.
Webb is also unique in that students attending the college have a high level of access to professors. Along with full-time faculty members, adjunct faculty from colleges in the local area also teach humanities courses. To assist in the quality of education and training at Webb, the school as its own automotive workshop, yacht club and even an English pub for after-hours recreation. Intercollegiate sports are also available, including basketball, volleyball, soccer, tennis, and sailing.
The school is also home to a 90-foot long model ship which is used by faculty and students for research and experiments. Students at Webb have around-the-clock access to the model ship basin as well as the library, chemistry and physics labs, carpentry shop, machine shop and engineering lab that can be used for electrical and mechanical experiments.
From January through February of each year, students at Webb Institute engage in a mandatory internship, during which time they seek out positions in a variety of different maritime industry jobs, such as design offices, shipyards and merchant vessels.
As a result of the full-tuition scholarships at Webb Institute, costs to attend the school are limited to room and board, books, laptop and software. To help with such expenses, the school also offers additional scholarships in addition to the William H. Webb full-tuition scholarship.
Students who need assistance with room and board may wish to apply for the Class of 1956 Scholarship. Students must demonstrate financial need. Students in their first year may apply for the Dunderberg Undergraduate Student Prize. Students must demonstrate financial need to qualify. Students completing their first year should consider applying for the John J. Hopkinson Memorial Scholarship. Funds from this scholarship are credited toward the student's sophomore year at Webb. Scholarships are also available to assist upperclassmen, including the Kurz Family Scholarship. This scholarship is awarded to students who are in their junior or senior year at Webb.
These are sure easy scholarships if you fit the criteria and solid job placement once you graduate from the Web Institute. Apply now if this sounds like a good fit for you.