An Intel Scholarship Easier then Most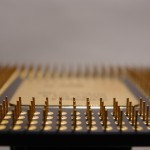 Compared to other technology companies, Intel offers several different useful Intel scholarships for interested students at multiple schooling levels and they are easier scholarships to get then most other awards today because Intel offers lots of them. Because of Intel's focus on computer technology students should not be too surprised to find that an Intel scholarship often focus on computer engineering. Intel scholarships are often available not only through the company itself but through partnering organizations. There are programs available for women and minorities, as well as an employee tuition program that the savvy Intel employee would be wise to take advantage of since there are a large number of yearly awards doled out allowing an easier chance of winning one of the many Intel scholarships.
Though there are a number of Intel scholarship programs available competition is going to be pretty high and students must have an interest in computer science. In order to maximize the chances of winning an award students should be able to indicate their interests clearly in their application materials paying special attention to any activities they have been involved in which relate to computer technology in general.
Amongst the best known Intel scholarships is the Talent Search program which has been offered in collaboration with the Society for Science and the Public for a number of years now. In order to be eligible for this Intel scholarship, students will need to be enrolled in their last year of secondary education and be a United States citizen. No applicants who have previously entered the Talent Search Intel scholarship will be able to apply. Students may only submit one entry form. This program awards an immense number of Intel scholarships every year giving 300 semi finalists $1,000 and 40 different finalists at least $7,500. Ten additional winners of the entire competition will receive anywhere from $20,000 to $100,000 making this competition a great opportunity for many interested applicants who are looking for easier scholarships with a reasonable chance of winning. All application materials must be submitted by November 17 of a given year. The format of this Intel scholarship focuses on research interests and goals, so students submitting applications should have an impressive basis as all finalists will present their materials to a committee of judges with scientific backgrounds.
Students of Native American descent will be interested to know that the American Indian Science and Engineering Society offer an Intel scholarship. Undergraduates are able to win a $5,000 award and graduates will get $10,000. An unspecified number of these AISES Intel scholarships will be awarded every year. In order to be eligible for this program students will need to have at least a 3.0 grade point average, be a full time student, be majoring in computer science, engineering or electrical engineering, be a verifiable member of an American Indian tribe and be a member of AISES. All applications must be submitted no later than June 15, 2011.
Even easier Intel scholarships are also available for children of Intel employees. This program is internationally based and employees of Intel around the world may have their children apply for the program. This Intel scholarship provides up to 400 different $4,000 awards every year. In order to be eligible for this program, students will need to be children of a current Intel employee who has been on the job for at least 90 days. Award amounts will vary depending on whether the applicant is attending a two year or four year program. The yearly deadline for this program is January 13.
Like many other organizations Intel scholarships are often made available on a non-permanent basis in connection with another organization. In 2010 an UNCF Intel scholarship was available through the United Negro College Fund though all indications suggest the program has not been renewed since then. However students should pay close attention to the website as it is always a possibility the program will reopen for the 2011-12 academic years. Up to $5,000 can be awarded to a winning applicant. The program is only available through several specific schools and only covers field relating to science or computer engineering. The 2010 deadline for this program was March 30 and, with no 2011 date posted, it is best to conclude that the program will not be supported again.
When you think of easy scholarships to get, Intel may have what your looking for giving students multiple chances of winning as opposed to most scholarship programs which only award one or two annually.
More at the easy scholarships blog!