Common Knowledge Scholarships – Easy to Apply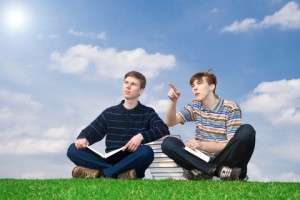 For prospective college students who want to avoid the hassle of writing essays to compete for the not so easy scholarships, there is the Common Knowledge Scholarships (CKSF). With this unique easy to apply scholarship opportunity, all you have to do is take a quiz. There are no applications to complete, no essays to write and no requirements regarding GPAs or standardized test scores. All you do is take a quiz and it is possible to win scholarships for college.
This is the ultimate easy to apply scholarship!
All high school students as well as college and graduate students are eligible to compete for Common Knowledge Scholarships. In addition, even parents are allowed to compete for these easy apply scholarships on behalf of their children.
There are several scholarship quiz opportunities held every year.
Each uncomplicated scholarship competition is comprised of at least one quiz. The topics of the quizzes may range from those that are general common knowledge, hence the name of this effortless scholarship, to those that are specific and academic in nature. Other topics may include movies, websites and books.
In order to compete for the Common Knowledge Scholarship (CKSF), interested individuals are required to register on the official website. If parents wish to compete for their children, they must indicate they are 'out of school' at the time they register. Once registered, a list of current as well as upcoming quizzes will appear. When competing for this scholarship, it is important to know that scores are based on a combination of accuracy as well as time. While competitors are penalized for the length of time they spend on each question, accuracy does outweigh time. Each correct answer is awarded 500 points and one point is subtracted for every second taken to complete a quiz question. Participants are not allowed to receive help from others when taking a quiz.
The site's homepage continually displays a list of results for current straightforward scholarship quizzes. Those applicants who have the highest scores at the end of each quiz completion wins the effortless scholarship for that competition. Award amounts for each quiz range in value from $250 to $2,500. Common Knowledge scholarship funds can be used at any post-secondary college or university in the United States.
These easy apply scholarships should be given a close look because of the little effort and time needed to enter and have a chance at winning by students as well as their parents.
These are the easy scholarships all students need to pay closer attention too.
The low time – high money reward ratio is very worth it!!!